Wuzetka
Poland ????????
Time: 70 minutes + overnight | Servings: 12 servings| Rating: ★★★★☆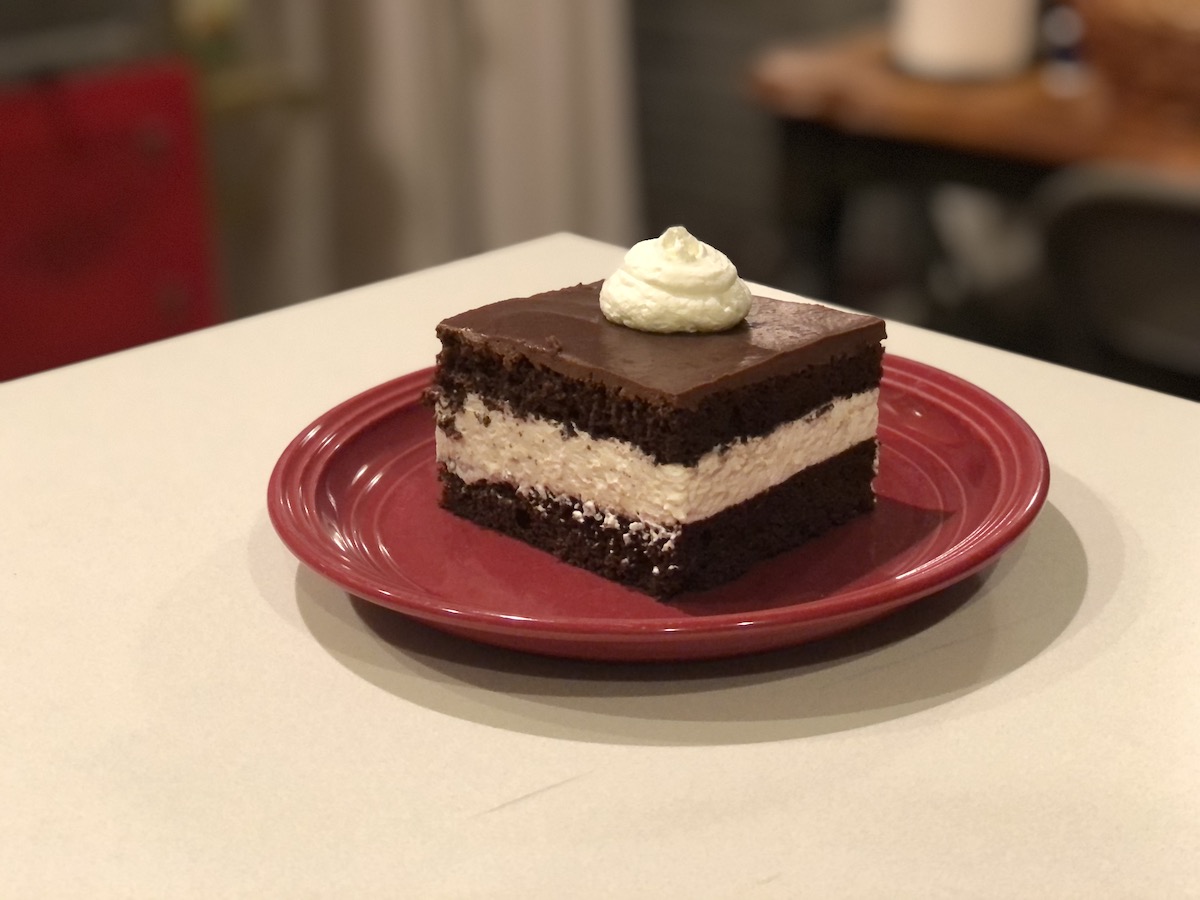 Ingredients
For the Cake
200 g granulated sugar
100 g all-purpose flour, sifted
65 g cocoa, sifted
7 large eggs, separated, room temperature
For the Whipped Cream
750 ml heavy whipping cream
5 tablespoons powdered sugar
For the Assembly
2 tablespoons simple syrup
¼ cup orange juice
2 tablespoons Gran Marnier
10 tablespoons raspberry jam
For the Ganache
150 g dark chocolate
150 ml heaving whipping cream
Directions
Line a 9"x12" cake pan with parchment paper; do not grease. Preheat the oven to 340°
Beat the 7 egg whites until light foam, then start slowly adding 200 g of granulated sugar, mixing thoroughly at high speed. The mixture should become shiny and stiff. Then add one yolk at a time, mixing constantly. After adding the 7th yolk, mix for 2 minutes.
In two portions, fold the sifted flour and cocoa into the egg mixture so the eggs do not deflate.
Pour the batter into the cake pan and bake for 20 to 25 minutes. Transfer to a cooling rack to cool.
While the cake is cooling, whip 750 ml of heavy whipping cream with the 5 tablespoons of powdered sugar until stiff peaks.
In a bowl, combine the 2 tablespoons of simply syrup, ¼ cup freshly-squeezed orange juice and 2 tablespoons Gran Marnier.
Cut the cooled cake in half horizontally. Put the lower part of the cake back into the baking tray, soak it with half of the soaking syrup, and spread 10 tablespoons of raspberry jam. Add a thick layer of ¾ of the whipped cream on top of the jam, keeping about ¼ of the whipped cream for decoration. Apply the top part of the sponge cake and soak it with the remaining soaking syrup. Place in the refrigerator for at least 3 hours.
In a microwave safe bowl, warm 150 ml of heavy whipping cream. Add 150 g of dark chocolate and cover the bowl for 10 minutes. Stir the chocolate and cream until a ganache is formed.
Spread the ganache on top of the cool cake and return to the refrigerator for at least another 3 hours or overnight.
Once ready to serve, cut the cake into squares and top with a swirl of whipped cream. Enjoy!