Znoud El Sit
Lebanon ????????
Time: 45 minutes | Servings: 18 pieces | Rating: ★★★★☆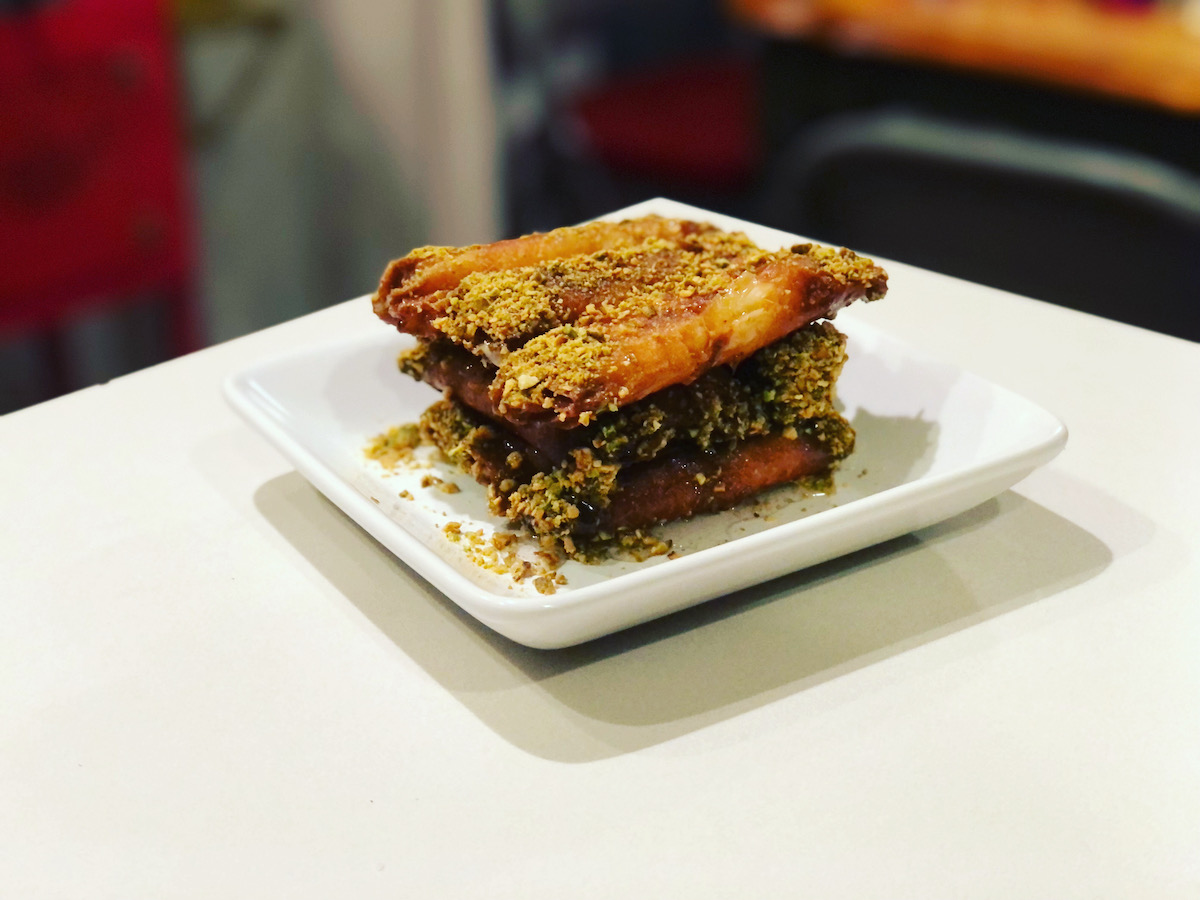 Ingredients
For the Simple Syrup
2 cups granulated sugar
1 tablespoon lemon juice
1 teaspoon orange extract
1 cup water
½ teaspoon rose water
For the Filling
1 ½ cups whole milk
½ cup heavy cream
3 tablespoons granulated sugar
3 tablespoons cornstarch
¼ teaspoon rose water
1 orange, zested
For Assembly
12 sheets phyllo dough
Pistachios
Directions
To make the simple syrup, combine 2 cups of granulated sugar, 1 tablespoon of lemon juice, and 1 cup of water in a small saucepan. Heat on medium-high heat and whisk until all the sugar has dissolved in the water.
Once the syrup is boiling, lower the heat to medium and let it simmer for 8 minutes. Turn off the heat and add ½ teaspoon of rose water and ½ teaspoon of orange extract.
To make the cream filling, combine 1 ½ cups of whole milk, ½ cup of heavy cream, 3 tablespoons of granulated sugar, and 3 tablespoons of cornstarch in a small pot. Whisk over medium heat until the mixture starts to thicken then keep whisking for about 5 more minutes.
Turn off the stove and add in ¼ teaspoon of rose water and the zest of 1 orange. Whisk thoroughly to combine. Transfer to a bowl and set aside to cool.
Heat a large skillet with a neutral oil to 350°F.
Prepare the phyllo dough by cutting them into long rectangular strips about 4 inches wide.
Place a strip of phyllo horizontally and then place another strip over it vertically towards the bottom.
Add about 2 tablespoons of the cream filling right in the middle of the vertical strip and fold over both sides.
Roll the horizontal strip starting from the bottom over the folded one. Use a little bit of water to help seal the phyllo dough.
Fry the rolls in batches for about 2 minutes, flipping them over halfway through, until golden brown.
Once removing a batch from the frying out, drop the rolls immediately from the into the simple syrup for about 30 seconds then transfer to a serving plate.
Decorate with ground pistachios. Serve at room temperature or cold. Enjoy!