Bizcocho Dominicano
Dominican Republic ????????
Time: 3 hours | Servings: 16 slices | Rating: ★★★★☆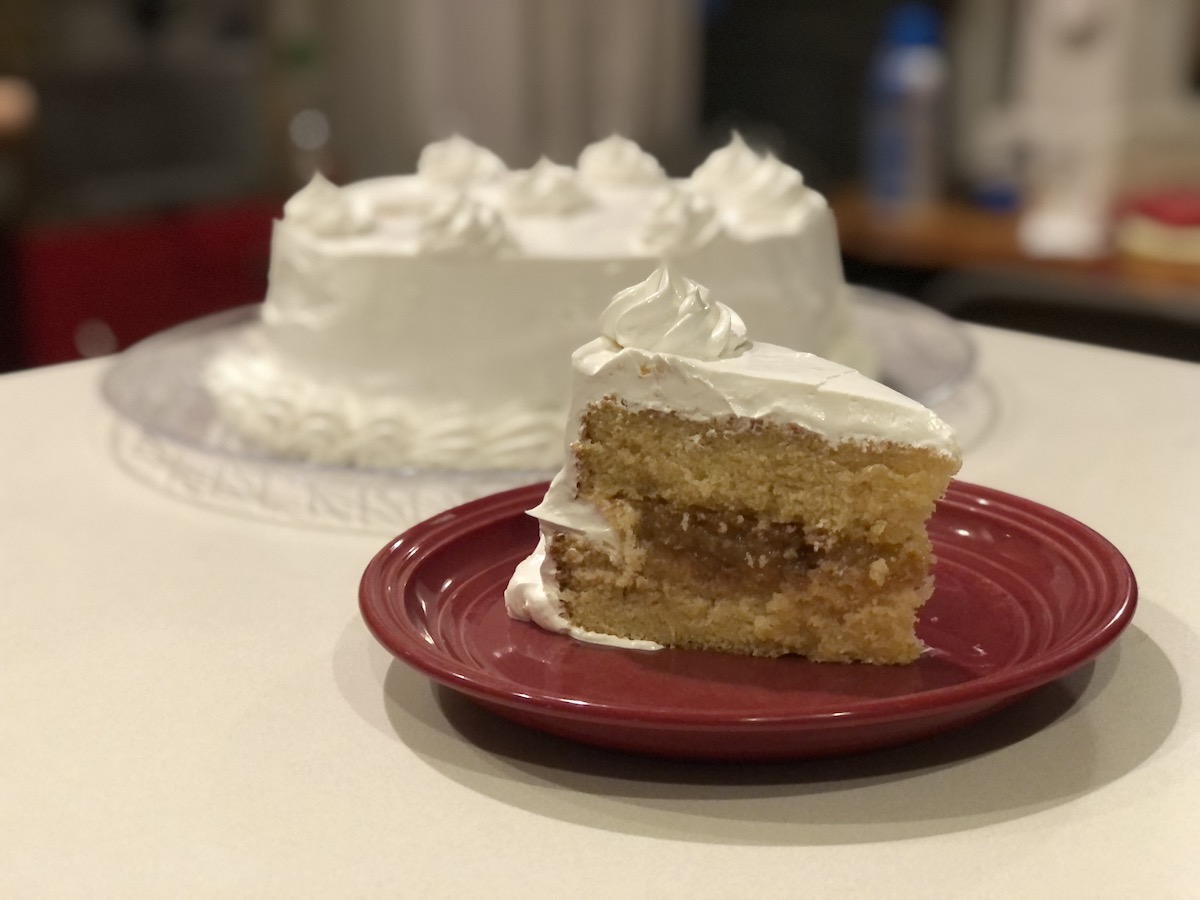 Ingredients
For the Pineapple Jam
800 grams fresh pineapple
4 cups water
½ cup brown sugar
1 teaspoon vanilla extract
For the Cake
1 cup butter, softened
1 ⅔ cups granulated sugar
3 eggs
3 egg yolks
½ lime, zested
¼ cup orange juice
1 tablespoon vanilla extract
2 cups all-purpose flour
1 tablespoon baking powder
1/4 teaspoon salt
1 cup evaporated milk
For the Meringue
1 ½ cups granulated sugar
½ cup water
1 egg white
1 teaspoon vanilla extract
Directions
Peel and core 800 grams of pineapple, and mince in the food processor to remove any big chunks.
Pour the minced pineapple into a thick-bottomed saucepan, add ½ cup of water, ½ cup of brown sugar, and 1 teaspoon vanilla extract.
Heat over medium heat until it reaches a gentle boil. Cover and boil over low heat until all the liquid has evaporated, approximately 90 minutes to 2 hours. At the 2 hour mark, you may need to remove the lid and let the remaining liquid evaporate off.
While the jam is cooking, preheat the oven to 350°F. Line the bottom of two 9-inch cake pans with parchment paper.
Beat together 1 cup of softened butter and 1 ⅔ cups of granulated sugar until the mixture is light and fluffy.
One at a time, add 3 eggs and 3 egg yolks and continue beating until each is well incorporated into the mixture before adding the next.
Add the zest of ½ lime , ¼ cup of orange juice, and 1 tablespoon of vanilla extract and mix until well combined.
In a separate bowl, sift 2 cups of all-purpose flour, 1 tablespoon of baking powder, and ¼ teaspoon of salt together.
Continue mixing the wet mixture on low while alternating adding the dry ingredients and the 1 cup of evaporated milk. Mix until the batter is smooth, but make sure not to over mix. Use your spatula to make sure there are no lumps.
Divide the batter evenly into the cake pans, and bake for 25-30 minutes, or until a toothpick comes out clean. Cool down cakes to room temperature before removing from the pan.
In a saucepan over medium high heat, mix 1 ½ cups of granulated sugar and ½ cup of water, stirring until the sugar dissolves.
Bring heat to medium and simmer until it reaches 235°F. This usually takes about 10 minutes. The mixture should be thick and still light in color.
Using the wire whisk attachment of your stand mixer, beat 4 egg whites until their volume has doubled, about 3 minutes.
Slowly add the sugar syrup while mixing on high, until stiff peaks form.
Add 1 teaspoon of vanilla extract and mix to combine.
To assemble, pipe the meringue in a circle around the edge of the bottom layer of cake.
Spread the pineapple jam (to taste) inside the meringue circle then stack the other cake.
To decorate the cake, spread the remaining meringue on top and around the cake, and decorate however you'd like. Enjoy!