Black Forest Cake
Germany ????????
Time: 1 hour, 30 minutes | Servings: 12 servings | Rating: ★★☆☆☆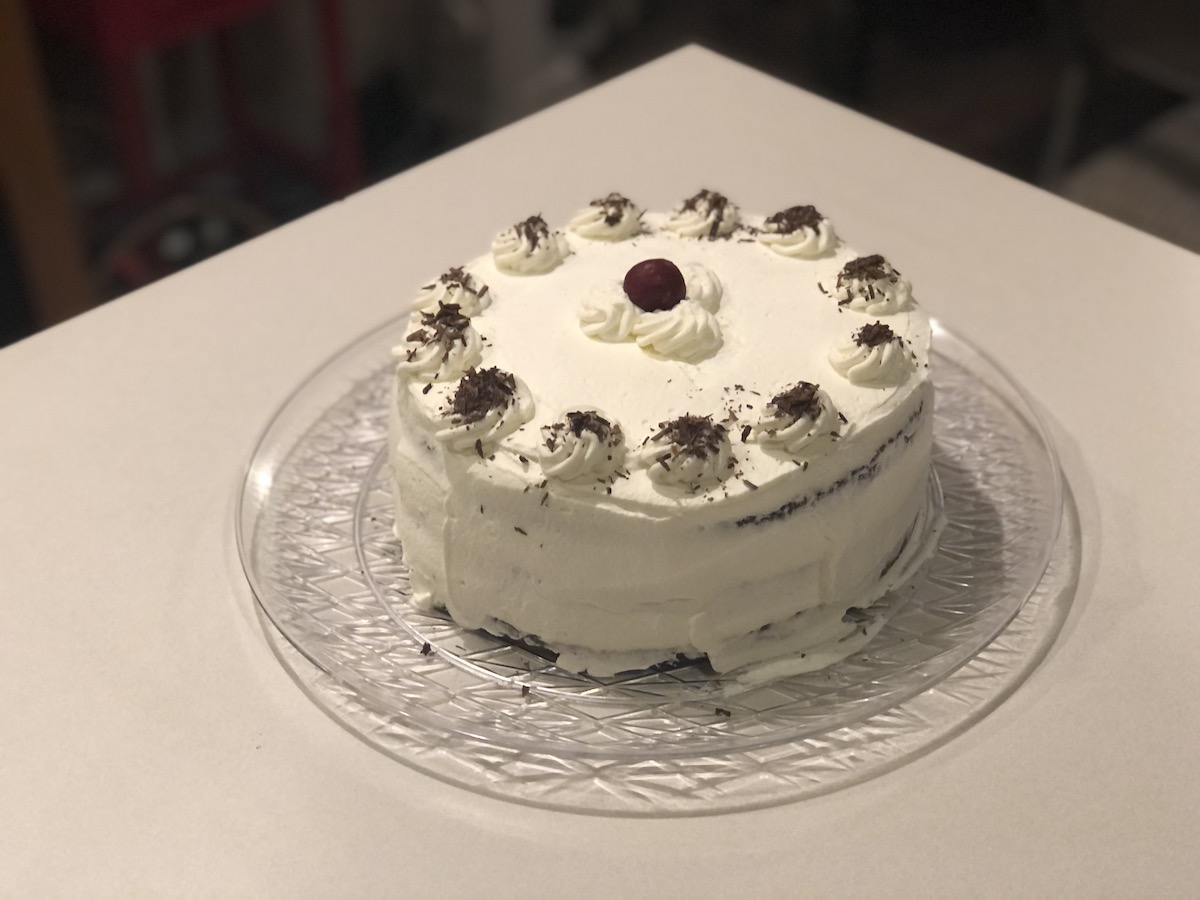 Ingredients
For the Cake
6 large eggs
200g granulated sugar
56g butter, melted
1 tsp vanilla extract)
150g all-purpose flour
42g Hershey's Special Dark cocoa powder
2 tsp baking powder
½ tsp salt
For the Cherry Filling
4 tsp cornstarch
180ml unsweetened cherry juice (you can substitute 60 ml with kirsch)
75g granulated sugar
450g cherries, pitted
For the Whipped Cream
720 ml heavy whipping cream
50g granulated sugar
Directions
Preheat oven to 320°F. 

Line the bottom and the sides of a 9″ springform pan with parchment paper and set aside.

In a large mixing bowl, using a stand mixer fitted with a whisk, and beat the eggs and sugar until creamy and fully combined about 2-3 minutes.

Add the butter and vanilla and mix just to combine.

Sift in flour, cocoa, baking powder, and salt. Stir to combine, another 1-2 minutes. 

Transfer to the prepared baking pan and bake for about 33-38 minutes or until a toothpick in the center comes out clean. 

In a small bowl, combine cornstarch and ¼ cup of cherry juice.

In a heavy-bottomed saucepan, bring remaining cherry juice and sugar over medium heat to a simmer. Stir constantly. 

Pour the cherry-cornstarch mixture into the saucepan and cook for 1-2 minutes until it gets thick like syrup and coats the back of a spoon. Stir continuously. Remove from the heat and pour over the cherries. Let cool to room temperature.

After everything has cooled, whisk heavy whipping cream until soft peaks form in a large mixing bowl. Add sugar and whisk until stiff peaks form. 

Cut the cake horizontally two times that you have three almost evenly thick cake layers. Place the bottom cake layer on a cake stand or plate and brush with cherry syrup (which your poured over the cherries) lightly.

Spread with whipped cream and pipe an additional ring of whipped cream around the edges (together about ⅙ of the cream). Then spoon the half of the cherries (with very little liquid) on top of the cream but inside the piped ring. The ring makes sure that the cherries stay inside the cake and no syrup is running out the sides. Then spoon additional whipped cream on top of cherries and spread evenly to cover them (another ⅙ of the cream, so that about ⅓ of the cream is now used in total). 

Place the second cake layer on top and repeat.

Finish with the third cake layer on top and spread remaining ⅓ of whipped cream all over the cake and around the edges. Chill in the fridge for at least 4 hours.

Before serving, decorate with chocolate sprinkles, fresh cherries, and additional whipped cream to your preference. Enjoy!