Christmas Custard
Colombia ????????
Time: 30 minutes + 6 hours to chill | Servings: 12 | Rating: ★★★★☆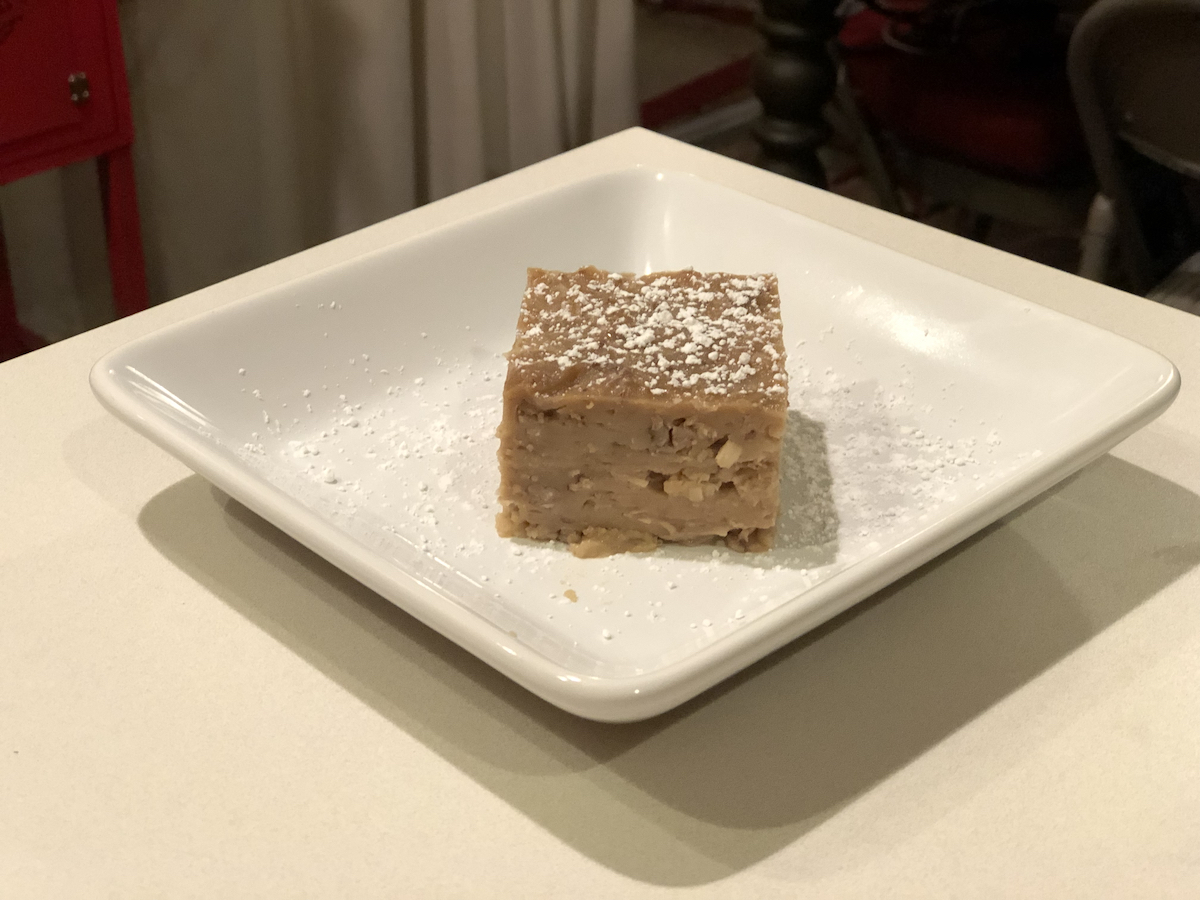 Ingredients
For the Custard
4 cups whole milk
1 cup packed dark brown sugar
1 tablespoon molasses
3 cloves
4 cinnamon sticks
½ teaspoon baking soda
½ teaspoon salt
¾ cup cornstarch
2 tablespoons butter
1 cup shredded coconut
1 teaspoon vanilla
¾ cup chopped pecans
Directions
Place 3 cups of whole milk, 1 cup of packed dark brown sugar, 1 tablespoon of molasses, ½ teaspoon of baking soda, 3 cloves, 4 cinnamon sticks, and ½ teaspoon salt into a medium saucepan. Place over medium-low heat, stirring, and bring just to a boil.
While the milk is warming, stir together the remaining 1 cup of milk and ¾ cup of cornstarch until combined.
Once the milk and sugar mixture has just reached a boil, take out the cinnamon sticks and cloves.
Whisk the milk-cornstarch mixture into the warmed milk and continue to cook, stirring constantly, until it starts to thicken.
Stir in 1 cup of shredded coconut, and continue cooking the mixture until it has thickened enough that you can see the bottom of the pan for several seconds when you stir (do not let it come all the way to a boil), about 4 to 5 minutes. Stir constantly so that the cornstarch doesn't clump and the mixture doesn't burn.
Remove from heat, and stir in ¾ cup of chopped pecans, 2 tablespoons of butter, and 1 teaspoon vanilla.
Pour the mixture into a greased 8-inch glass pan or in any greased mold. Refrigerate until firm.
Sprinkle the custard generously with powdered sugar. Cut into 3-inch rectangular pieces to serve. Enjoy!