Doughnuts
Sierra Leone ????????
Time: 30 minutes + 1 1/2 hours rise time | Servings: 24 doughnuts | Rating: ★★★★★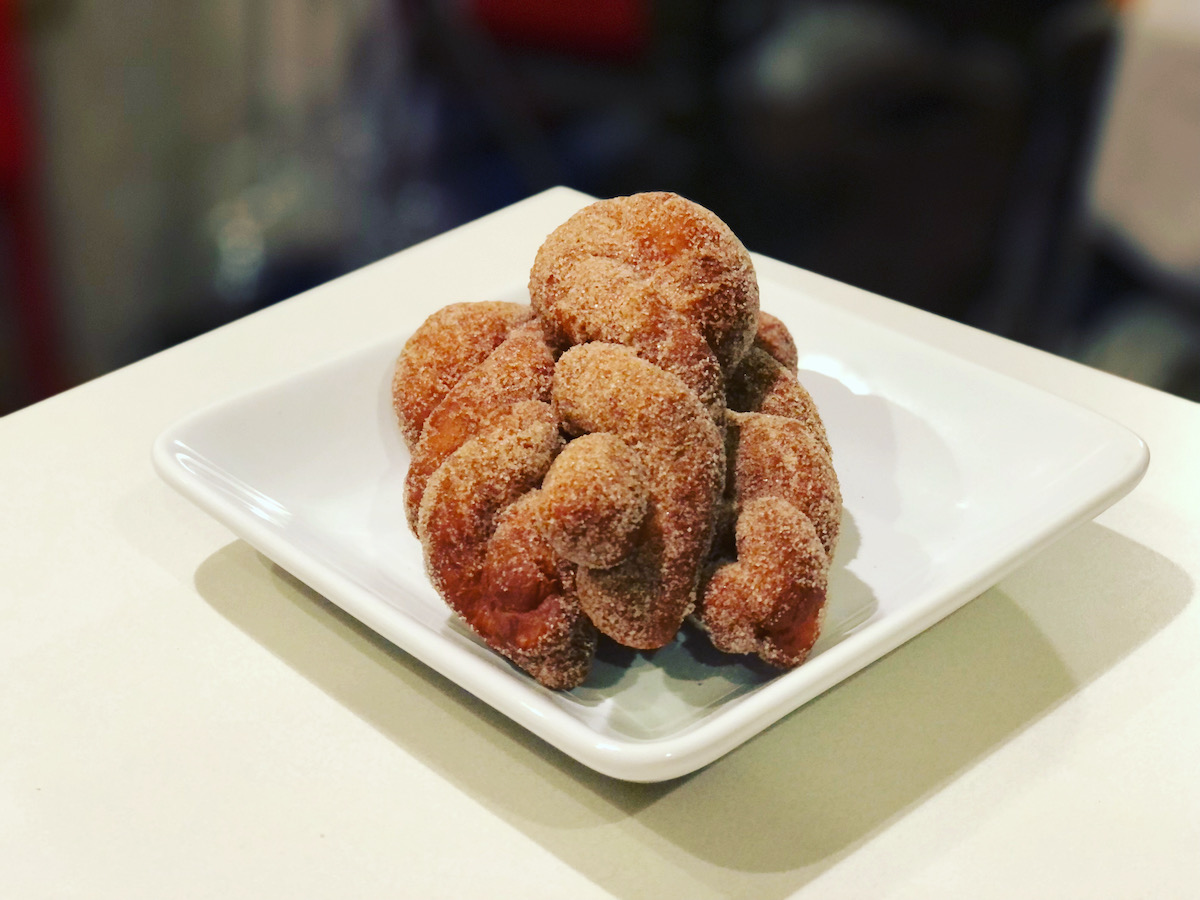 Ingredients
For the Dough
4 cups all purpose flour
2 ½ teaspoons active dry yeast
12 oz evaporated milk
3 tablespoons butter, melted
3 tablespoons granulated sugar
1 teaspoon salt
1 egg
For Finishing
½ cup granulated sugar
1 ½ tablespoon cinnamon
Directions
Microwave 12 ounces of evaporated milk to 110°F.
Add 2 ½ teaspoons of active dry yeast to the warm milk and let it rest for 2 minutes.
Next, add 3 tablespoons of granulated sugar, 1 teaspoon of salt, 3 tablespoons of melted butter and 1 egg then whisk everything together.
Add in 4 cups of all purpose flour and mix with a wooden spoon to form a dough. Cover the dough with plastic wrap and let it rise in a warm place for about 1 hour until doubled in size.
Punch down dough to deflate then place on a floured board and cut into 24 equal pieces.
Take one piece and roll out into a 13-inch rope. Twist the rope in the opposite direction (move one hand upward and the other hand downward as you roll). Hold up and keep twisting until it forms a twisted doughnut. Press the ends together to seal them. Place the twisted doughnut on a large tray or chopping board. Repeat the process with the rest of the dough.
Let the twisted doughnuts rise for ten minutes. Then flip them to the other side to rise for another ten minutes.
While the dough is rising, heat frying oil to about 350°F then turn the heat down to medium-low.
Place in the twisted doughnuts to fry being careful not to overcrowd the pan. Once the doughnuts turn golden brown on one side, flip to the other side and let them cook. Once the other side is golden brown, remove and place on paper towel to absorb excess oil. They take about 4 minutes total to cook.
Mix ½ cup of granulated sugar and 1 ½ tablespoon of cinnamon in a large bowl and place the hot doughnuts in and shake to coat. Enjoy!