Esterházy Torte
Hungary ????????
Time: 2 hours + 6 hours chill time | Servings: 16 | Rating: ★★★★★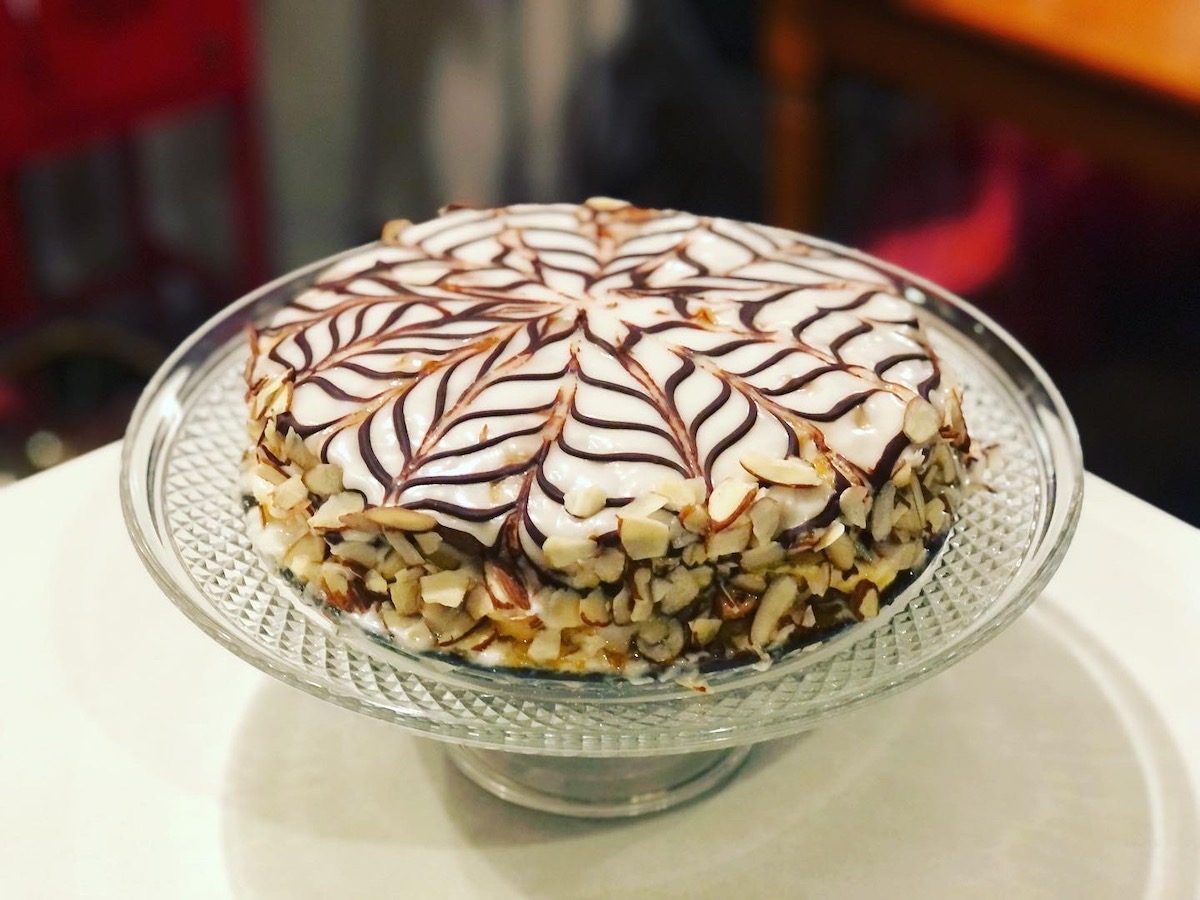 Ingredients
For the Cake
5 egg yolks
30g cornstarch
210ml milk
100g granulated white sugar
200g butter, room temperature
1 teaspoon vanilla extract
30ml Kirsch or Chambord
For the Meringue
75g ground hazelnuts
75g ground almonds
40g all-purpose flour
8 egg whites
pinch of salt
200g granulated white sugar
For the Decoration
110g apricot jam
15ml rum
22g chocolate, melted
300g powdered sugar, sifted
2 ½ tablespoon water
3 teaspoons light corn syrup
100g almond slices
Directions
To make the custard, combine 5 egg yolks, 30g of cornstarch, and 90ml of milk in a bowl and stir to combine.
Bring 120ml cup of milk and 100g of granulated sugar over medium heat to a boil until the sugar is completely dissolved, stirring constantly.
Slowly pour the hot milk into the egg mixture, stirring to combine. Return to the saucepan and cook until thick, about 2 minutes, stirring continuously. Remove from heat and transfer to a bowl. Cover with plastic wrap to prevent it from forming a skin and chill for 1 hour.
To make the meringue layers, with a pencil, draw five 9 inches circles on parchment paper. Then turn the parchment paper upside down and place on baking sheets. Preheat the oven to 350°F
Combine 75g of ground hazelnuts, 75g of ground almonds, and 40g of all-purpose flour and stir to combine. Set aside.
In a stand mixer, whisk 8 egg whites and a pinch of salt on medium-high speed until soft peaks form. Slowly add 200g of granulated sugar and whisk until glossy and stiff peaks form. Carefully fold in the ground nut mixture.
Equally spread the batter into the drawn circles. Make sure that they are all the same in size and thickness. Bake one layer at the time for 10-12 minutes until golden brown. Remove from the oven and immediately flip over the parchment paper and remove the paper. Let cool to room temperature.
In a large bowl, beat 200g of butter on medium-high speed until creamy. Add the cooled custard little by little and stir to combine. Add 30ml kirsch and 1 teaspoon of vanilla extract and stir until fully combined and creamy.
Combine 110g apricot jam and 15ml rum in a bowl and stir until smooth and combined. Set aside.
To assemble the cake, place the first meringue layer inside a 9″ springform pan and spread with ¼ of the custard buttercream filling. Repeat until you end up with 5 meringue and 4 buttercream layers. Finish with the most beautiful meringue layer on top, smooth side up. Spread apricot jam on top evenly. Chill for 30 minutes.
Place melted chocolate in a piping bag and cut off a tiny edge of the bag and set aside.
To make the glaze, combine 300g powdered sugar, 2 ½ tablespoons of water, and 3 teaspoons of light corn syrup and stir to combine until smooth. Microwave a few seconds until it reaches a temperature of 80-85°F. Immediately pour on top of the chilled cake. If the glaze is too runny, let stand for a few minutes. If it is too thick, microwave a few more seconds. Let excess glaze drip over the sides.
Pipe a chocolate wheel on top beginning from the center to the edges. Then run the tip of a toothpick from the center to the edges and from the edges to the center, 1 inch apart. You will have about 8-9 lines in each direction to form the design. Cover sides with sliced almonds by pressing them against the sides with your hand.
Chill in the fridge in an airtight container for 4 hours. Enjoy!