Jalebi
Pakistan ????????
Time: 45 minutes | Servings: 48 jalebi | Rating: ★★★★☆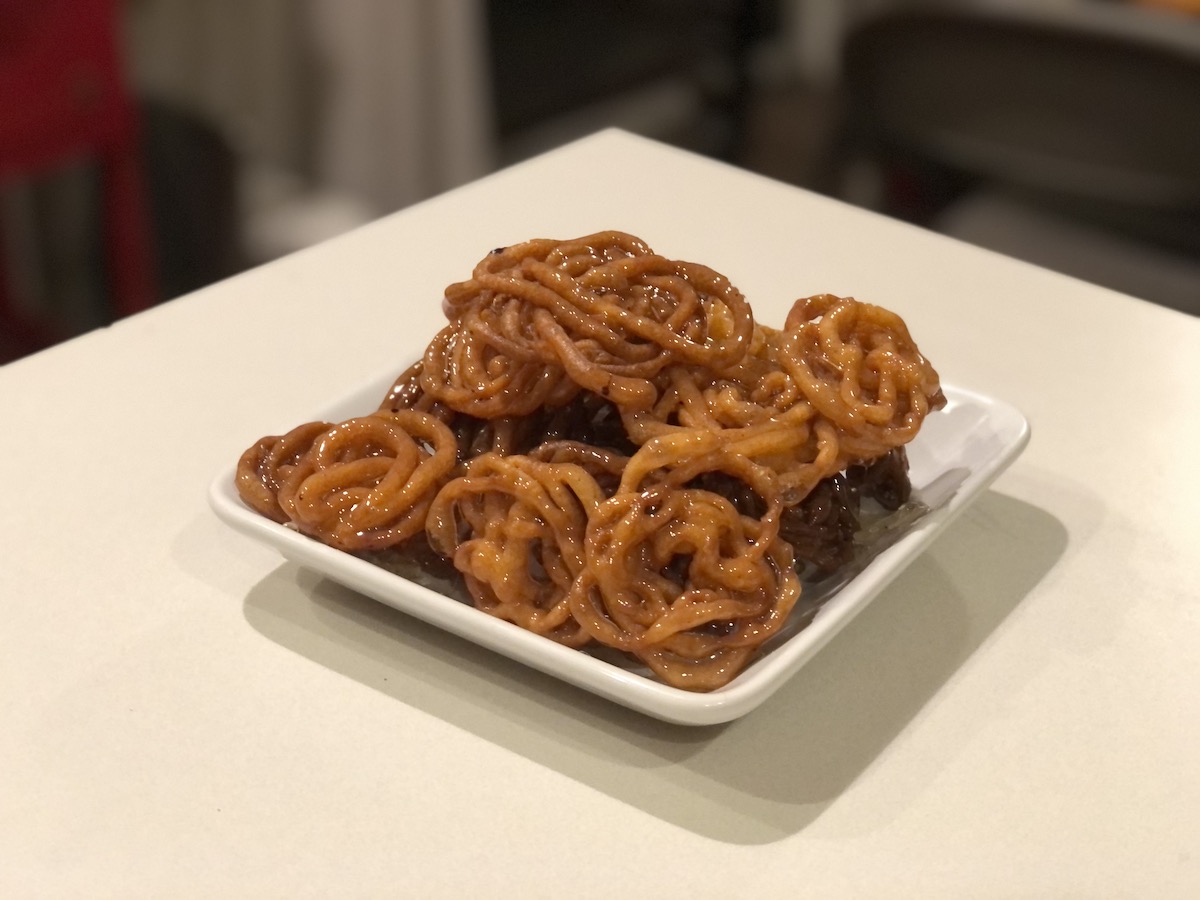 Ingredients
For the Batter
1 cup all-purpose flour
¾ cup plain yogurt
1 teaspoon baking powder
3-6 tablespoons water, as needed
Orange food coloring
For the Sugar Syrup
2 cups granulated sugar
1 ¼ cups water
1 lemon slice
½ teaspoon cardamom powder
Directions
In a large bowl, mix together the flour and yogurt using a wire whisk.
Add 2-3 tablespoons of water to the batter. The batter should be thick but of a flowing consistency. If necessary, add another ½ tablespoon of water at a time to reach the desired consistency.
Once the batter is smooth, add a pinch of orange food coloring and the baking powder and mix too combine.
While the batter rests, add sugar and water to a heavy-bottomed saucepan and heat over medium heat until the sugar is fully dissolved.
Once the sugar syrup comes to a boil, add a slice of lemon and boil for 3-4 minutes, until it reaches a 1-string consistency. To test the consistency, pour a drop of syrup on a plate or bowl and allow it to cool for a few seconds. Touch the syrup between two of your fingers and gently pull apart. If the syrup is sticky, then it is ready.
Add cardamom powder and stir well. Turn off the heat and set aside. You'll want this syrup to be warm when you add the jalebi.
Heat frying oil over high heat then reduce to medium.
While oil is heating, place jalebi batter into a squeeze bottle.
Once oil has been reduced to medium, pour spiral shapes of batter into the hot oil, and fry the jalebi until they are crisp and golden. They fry really quickly so keep an eye on them.
Remove from oil and add the jalebi to the warm sugar syrup and allow them to soak for 1-2 minutes. Enjoy!