Kolaches
Czech Republic ????????
Time: 90 minutes + 2 1/2 hours rise time | Servings: 12 pieces | Rating: ★★★★☆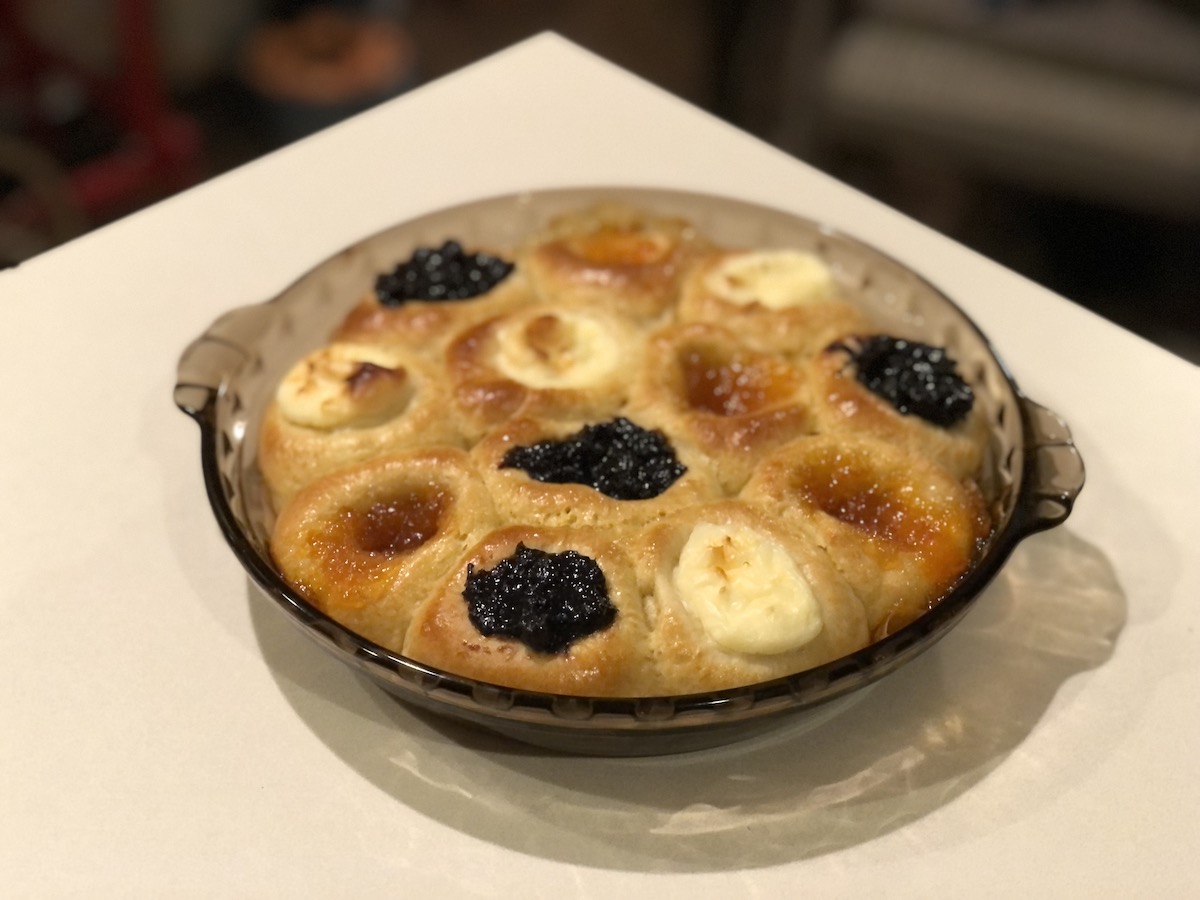 Ingredients
For the Dough
⅔ cup 2% milk
2 teaspoons active dry yeast
2 tablespoons granulated sugar
2 cups all-purpose flour
6 tablespoons unsalted butter
2 large egg yolks
½ teaspoon salt
For the Fillings
6 prunes
1 tablespoon honey
6 tablespoons apricot preserves
3 ounces cream cheese
1 tablespoon powdered sugar
For Assembly
1 egg
splash of heavy cream
Directions
For the prune filling, combine 6 prunes in a small saucepan with 1 tablespoon honey and enough water to barely cover the prunes. Boil, stirring occasionally, for about 10 minutes, mashing them with a fork as they cook. They're done when most of the water has evaporated, and it's thicker than jam. Set aside to cool.
For the cream cheese filling, stir together 3 ounces of room temperature cream cheese with 1 tablespoon of powdered sugar until smooth. Set aside.
Next, make the kolaches. Warm ⅔ cup of 2% milk in a microwave-safe bowl for about 30 seconds until lukewarm. Once the milk is at precisely 110°F, add 2 teaspoons active dry yeast, 2 tablespoons granulated sugar and 2/3 cup of all-purpose flour. Mix together well and let rise in a warm place until doubled in size, about 15 minutes.
In another bowl, add 6 tablespoons of melted butter. Let cool briefly before stirring in 2 egg yolks. Add the egg and butter mixture to the yeast mixture and mix well. Add the remaining 1 ⅓ cups of all-purpose flour, ½ teaspoon of salt, and mix very well.
Next, lightly flour a dry board and your hands and knead the dough for 10 minutes, until the dough is soft, supple, and not sticky at all.
Grease a bowl with cooking spray and add the dough. Cover and let it rise in a warm place until it doubles in size, about 1 hour.
Next, divide the dough into 12 equal portions, and roll each dough ball into a ball.
Line a 9″ pie plate with parchment paper, and arrange the dough balls in it. Let the dough rise until doubled, about 1 hour.
Preheat the oven to 375°F.
Once the dough balls have doubled in size, use your fingers to make indentations for the fillings.
Next, stir together 1 egg and a splash of heavy cream to use as the egg wash for the rolls.
Divide the jam fillings between the kolaches, and then brush with the egg wash gently, trying not to get egg wash on the fillings.
Bake the kolaches for 18-21 minutes, until nicely golden brown. Use a toothpick inserted into the center kolache to ensure the rolls are done. Let cool slightly, tear apart to serve, and enjoy!