Lamingtons
Australia ????????
Time: 75 minutes | Servings: 16 servings | Rating: ★★★☆☆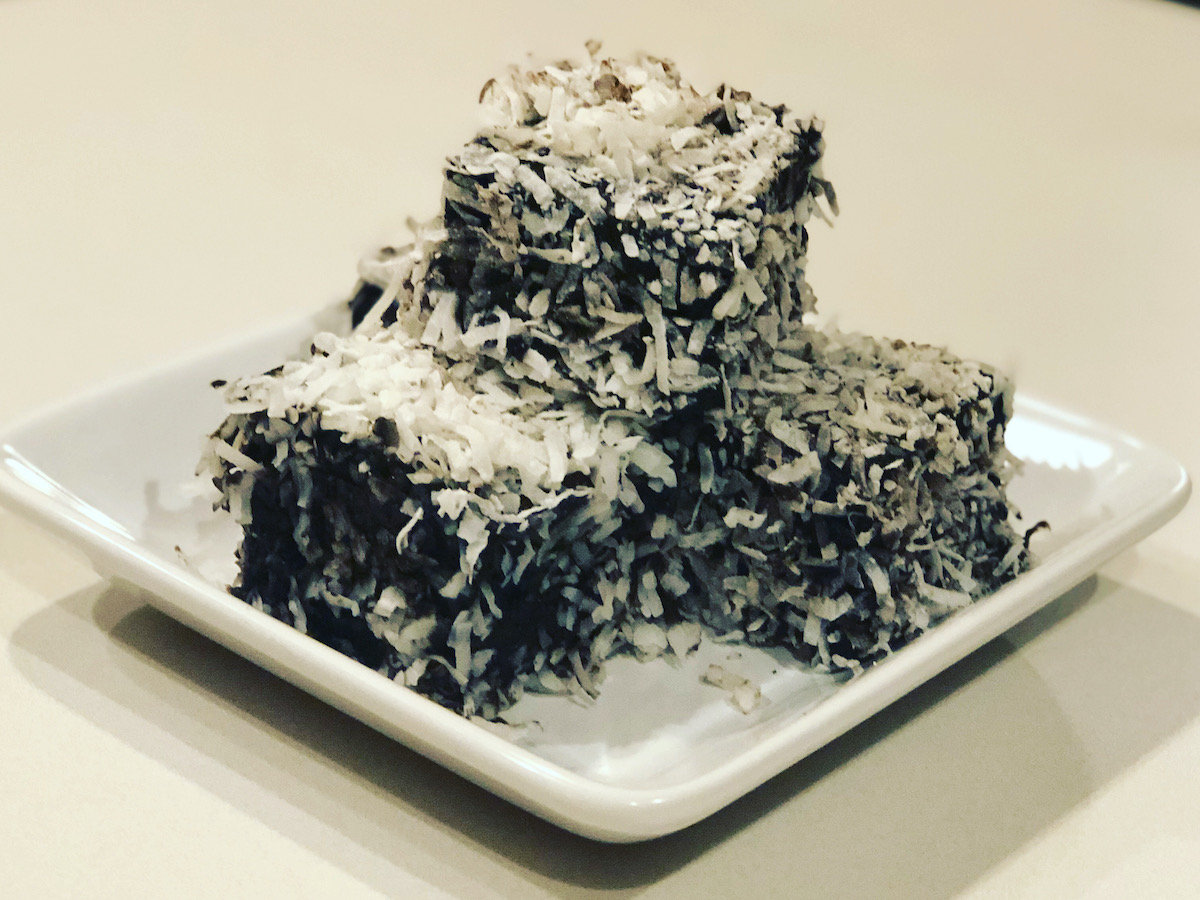 Ingredients
For the Cake
3 large eggs
220 grams granulated sugar
100 grams butter
1 1/2 tsp vanilla extract
300 grams all-purpose flour
1/4 cup cornstarch
1 tbsp baking powder
230 ml milk
For the Filling
For the Coating
6 tbsp cocoa powder
155 grams powdered sugar
155 ml boiling water
80 grams dark chocolate
200 grams desiccated coconut
Directions
Preheat the oven to 350F
Line the base and sides of a deep 10×10 inch square pan with parchment paper going in both directions, with the edges overhanging
In a large bowl, use a hand mixer to beat the egg whites with one third of the sugar until soft peaks form.
In your stand mixer, beat the remaining sugar with the butter, egg yolks, and vanilla extract for about 3 minutes until pale and fluffy.
In a medium sized bowl, use a whisk to blend the flour, cornstarch, and baking powder together.
Adding one third of this at a time, beat into the butter and egg yolk mixture, alternating with the milk, until smooth.
Whisk one third of the meringue into the batter to loosen it, then carefully fold in the remaining meringue until fully incorporated. Do not overmix.
Scrape the batter into the prepared pan and bake until golden and a toothpick inserted into the centre comes out clean or with a few moist crumbs. About 45-50 minutes.
Once the cake is completely cool, use a sharp serrated knife to trim the edges off the cake. Slice the cake into 16 evenly sized squares.
Slice each square in half and sandwich the two halves back together with a dollop of marmalade.
Whisk together the cocoa powder, icing sugar, and boiling water in a large bowl, then add in the dark chocolate until melted and smooth, set aside until cold.
Place the coconut in a shallow dish.
One at a time, dip each square in the chocolate mixture, making sure that it is completely coated
Roll the chocolate coated cake square in the desiccated coconut until all sides are covered.
Place the finished lamingtons on a wire rack and leave for a couple of hours until set. Enjoy!