Luqaimat
UAE ????????
Time: 45 minutes + 90 minutes resting | Servings: 8 servings| Rating: ★★★★★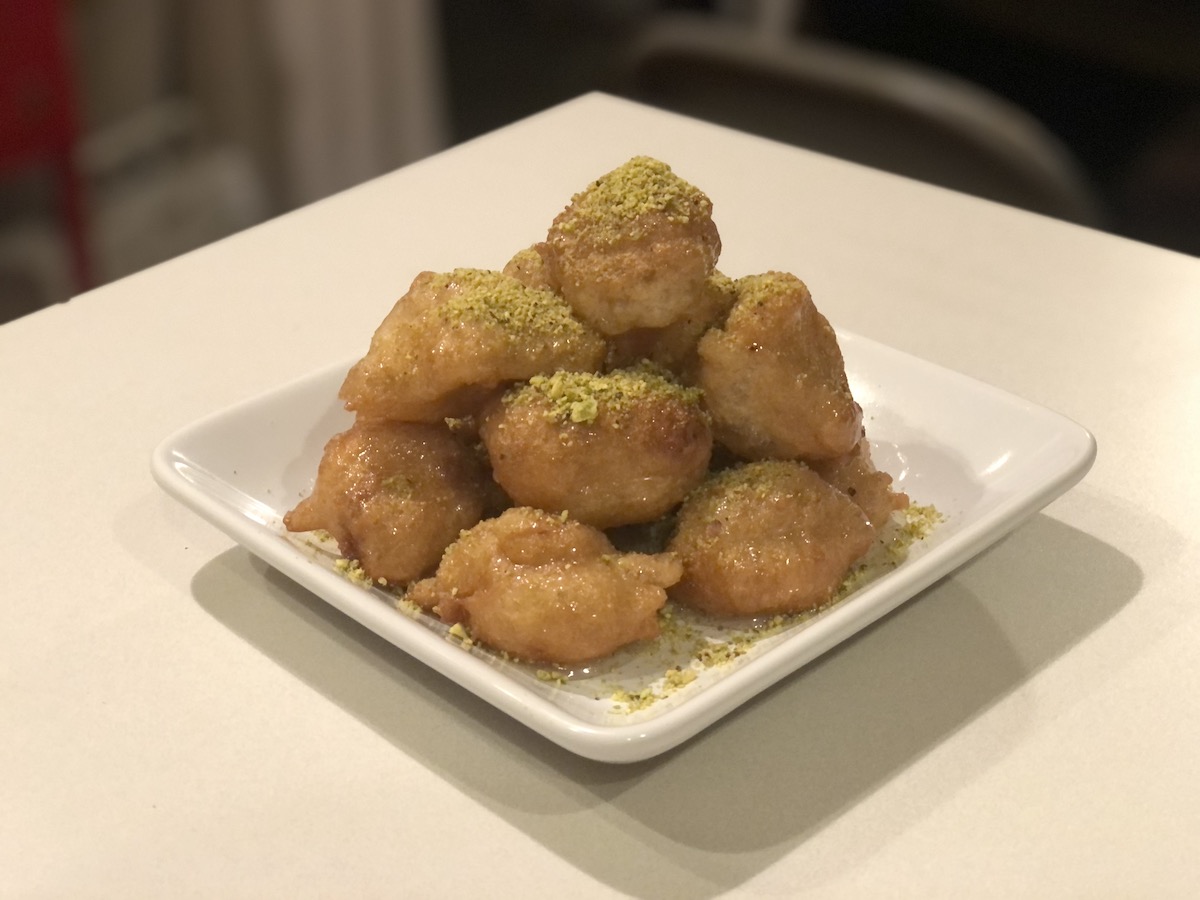 Ingredients
For the Dough
1 ½ cup all purpose flour
½ tablespoon sugar
½ tablespoon dry yeast
1 tablespoon cornstarch
½ cup warm water
½ cup plain oat milk yogurt
For the Syrup
2 cups sugar
1 ¼ cup water
1 ½ teaspoon lemon juice
¼ cup honey
½ teaspoon vanilla
¼ cup pistachios, crushed
Directions
In the bowl of a stand mixer, add flour, sugar, yeast and mix for 30 seconds to combine.
Add water until a hard dough forms; if you find it too hard and does not come together add another tablespoon of water and mix. Cover and let it set for 30 minutes.
While the dough is resting, combine all the syrup ingredients in a medium saucepan and stir to combine ingredients well.
Bring the syrup to a boil on medium-high heat then reduce heat and simmer for 10 minutes. Set aside to cool down completely.
After the dough has rested for 30 minutes, add the yogurt to the mixture and beat for almost 5 minutes or until dough comes together. Cover and let it rise for at least 1 hour.
Heat frying oil to 380° F then, reduce heat to medium and start frying the dough.
Using two teaspoons dipped in oil, form small balls and drop into the oil to fry. Oil the teaspoons every now and then to ensure that the dough will glide easily from the spoons.
After the pan is full with dough balls, raise the heat up again to medium-high, and fry the balls until they are golden brown, about 5 minutes.
Immediately take the doughnuts out, set them in the simple syrup, and stir to coat. Let them soak up the syrup for 5 minutes then strain the excess syrup and serve immediately. Enjoy!