Mustikkapiirakka
Finland ????????
Time: 45 minutes + 1 hour cooling | Servings: 8 | Rating: ★★☆☆☆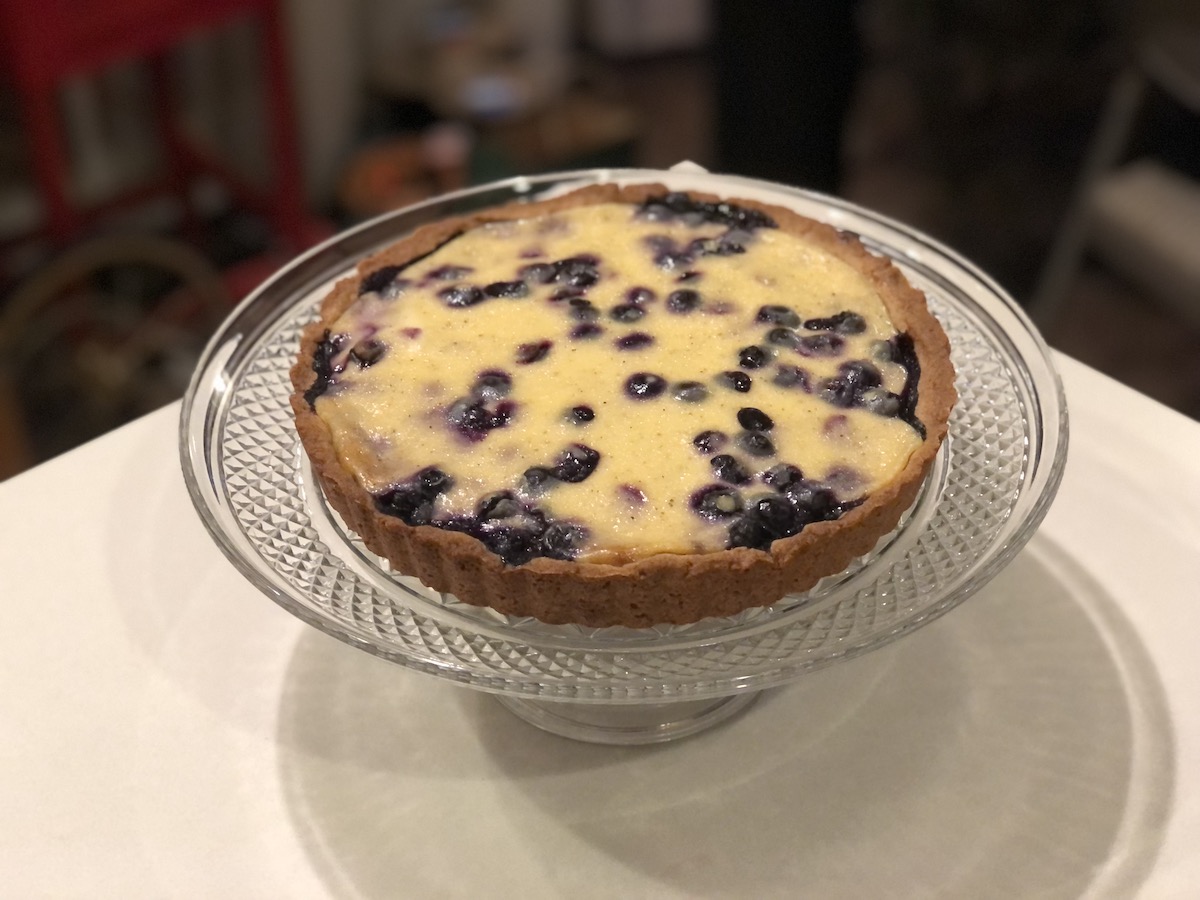 Ingredients
For the Crust
100 g butter
100 g granulated sugar
1 large egg
100 g rye flour
100 g all purpose flour
1 tsp baking powder
Pinch of cardamom
For the Filling
250 g fresh blueberries
250 g sour cream
1 egg
¼ tsp cardamom
1 tsp vanilla
¼ cup granulated sugar
Directions
Preheat the oven to 375°F. Lightly butter a 10″ tart pan with a removable bottom.
Cream together 100 grams of butter and 100 grams of granulated sugar until fluffy and light.
Add in 1 large egg and mix.
Stir in 100 grams of rye flour, 100 grams of all purpose flour, pinch of cardamom, and 1 teaspoon of baking powder just until combined into a pliable ball.
Turn the soft dough into your greased tart pan and use your hands to spread it into an even layer across the bottom and up the sides of the pan.
Prick the bottom with a fork and bake the empty crust for 10 minutes. Remove from the oven and let cool slightly.
While your crust bakes, in a bowl whisk together 250 grams of sour cream, 1 large egg, ¼ cup of granulated sugar, 1 teaspoon of vanilla, and ¼ teaspoon of cardamom. The filling will have a thin, pourable consistency.
Spread 250 grams of fresh blueberries evenly across the par-baked crust. Carefully pour the filling over and around the berries and spread gently with a spatula until the crust is filled evenly.
Carefully return to the oven and bake for 25-30 minutes, or until the edges are golden brown and the filling around the edges is set. The center should not look like uncooked liquid, but neither too dry and firm.
Remove from the oven and cool at room temperature for at least 40 minutes. Serve with ice cream or whipped cream. Enjoy!